posted 11 years ago
Now,My UrlyBird almost completed except perfect Locking.
Finding Mechanism - Hotel or City / Just Hotel / Just City
If ComboBox is Just hotel & Just city ,another TextField is uneabled & Set Background(GRAY);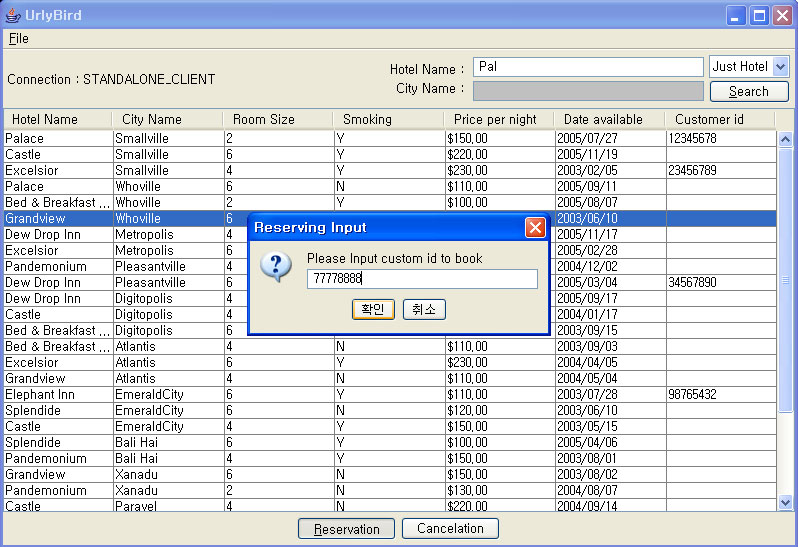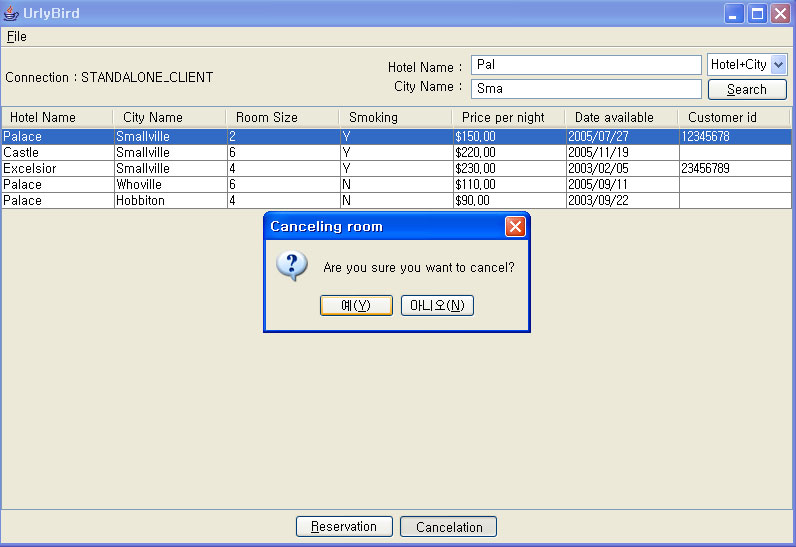 [ November 24, 2006: Message edited by: Smith Jone ]
SCJP 5.0<br />SCJD(In progressing!)<br />SCWCD(planing)<br />SCBCD(planing)
posted 11 years ago
Hi
Nice UI,
I have some tips, at least from my point of view.
1.If you choose to display the search criteria is not such a bad idea because you explain what you show in the table, but, if in the future a more elaborated search criteria will be added you may alter your main window. With other words your main window is not so easy to extend. In my specification I have something like :

Your user interface should be designed with the expectation of future functionality enhancements, and it should establish a framework that will support this with minimal disruption to the users when this occurs.

I think that this need no more comments.
2.Why you consider the connection status (the "Connection : STANDALONE_CLINENT") so important ? I mean why you show it first ?
The same question for the search panel.
This is no critic I just want to know your opinion.
In my opinion the main purpose of this UI is to show and book/release records ?
3.How you manage to get all the records ?
4.How you make a difference between the records what you can book and the others (remember the 48 H rule) ?
I work on the same project (URLyBird 1.3.3) you can take a look on one of my early screen shots (
http://www.coderanch.com/t/188394/java-developer-SCJD/certification/tips-gui-please
).
Regards M.
[ November 24, 2006: Message edited by: Mihai Radulescu ]
SCJP, SCJD, SCWCD, OCPJBCD