After reading
this post
today and it was in my mind for a long time but just was not getting time to post.
So today I decided to post.
Call me orthodox, I could not understand need of premarital sex ?
Am i saying that marriage is for sex only?
No but it plays major role in marriage and I think all over world legality of marriage depends on sex.
One can file for divorce if other partner has not have sex with one for six months or denies to have sex.
So I think sex is major actor of system called marriage which found in all human society. [There are some animal societies also.]
If sex is main ingrediant of marriage and if its available then why one should go for marriage ??
[Again agreed, marriage is NOT all about sex]
Here is the graph of US about premarital sex
What could be the reason for premarital sex and for EMA(extra marital affairs) ?
[for PS(Premarital Sex) reason is only one .. sex
]
Is parenthood is responsible for PS ? Can we blame parents for it. [Parents wont like to be blamed for it but can we ??]
After PS comes marriage and after marriage comes divorce
Divorce happens because of marriage
Here is graph of divorce rates in US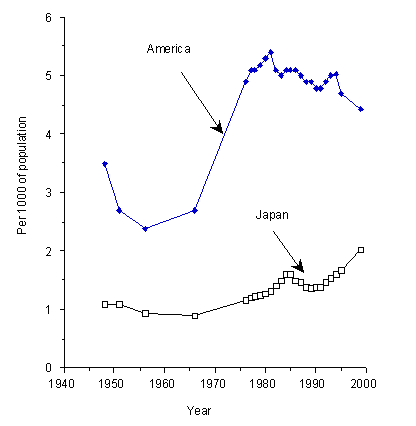 Does high divorce rate has something to do with premarital sex ?
I dont know whether high divorce rate is good or bad.
On one side high divorce rate shows independence of woman in society and high level of security for an exclusive person.
But at the same time it shows disbelief in family system and has adverse affects on child's psychology.
Why its so high in
developed nations
?
Why do we as a society accept PS and divorce to be normal routine of life ?
Can we control it?
Why would it be controlled ?
I have some answers and I dont have also
PS: why only US is in the picture?, for I got it easily on net. I tried to look for data for India but could not found
[ July 11, 2003: Message edited by: Ravish Kumar ]