I used Apple II's in school earlier than this, but the first one I actually owned was the TI-99/4A my parents bought me in high school.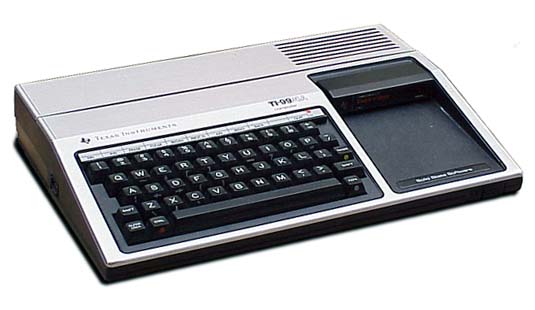 You could just program this thing in BASIC, but the BASIC had PEEK and POKE, and you could get a manual for the custom microprocessor, so therefore I was able to write an assembler for the thing, in BASIC. In assembly, I was able to write Asteroids and Pac-man and such. Great, great fun.
I remember that the processor in this thing had NO general-purpose registers. Instead there was a "workspace pointer"; you set the workspace pointer to point to a block of memory and the pointed-to 16 words acted as the register file. To call a subroutine and save the registers, you had to move the workspace pointer to a new spot in memory. The machine instruction for this was BLWP, "Branch and Load Workspace Pointer", which in my head is pronounced "Blowup".
Self-modifying code. Lots and lots of self-modifying code. Fun, fun. I miss it.
[ November 16, 2007: Message edited by: Ernest Friedman-Hill ]