posted 2 years ago
I have written a simple compile-time Annotation Processor to ensure that a field annotated with
@TypeChecker
is of type
String
.
I packaged it up according to specifications, including having a file named
META-INF/services/javax.annotation.processing.Processor
which contains the name of the Annotation Processor:
jar -tf lib\TypeCheckerProcessor.jar
META-INF/MANIFEST.MF
com/mcleodnet/TypeCheckerProcessor.class
META-INF/services/javax.annotation.processing.Processor
When I compile from the comand line using this class:
the Annotation Processor code runs, and produces the expected error message:
javac -cp lib\TypeCheckerProcessor.jar -d bin src\com\mcleodnet\TestClass.java
error: Field 'myStringField' in class 'TestClass' must be type String
1 error
After configuring Ecplise to perform annoation processing for my Annotation Processor, I am expecting Eclipse to show the error in the editor, but it is not working (I see no indication that the Annotation Processor ran).
My Eclipse configuration related to annotation processing:


Has anyone else worked with annotation processing with Eclipse that might be able to help me understand why it is not working?
posted 2 years ago
Well, it turns out that Eclipse was running the Annotation Processor, but I was looking in the wrong place for the results.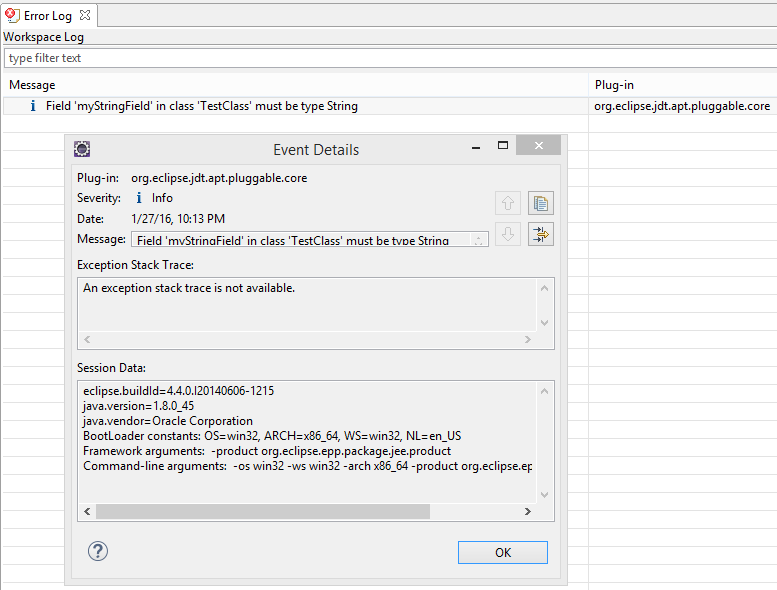 My goal is to have something like the red wavey line in the editor, and actually have the build fail, so I still have some more digging to do.
posted 2 years ago
I finally got it!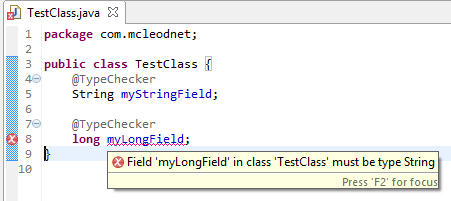 This is what I found:
- I needed to include the reference to the errored element is
printMessage
method to have it flagged in the editor.
- I got rid of returning false when a error was found - this halted compliation and caused further errors/warnings not to be found/displayed.
- I got rid of explictly checking for elements annotated with
TypeChecker
- this was redundant since the Annotation Processor would only be called for classes which have this annotation due to its
@SupportedAnnotationTypes("com.mcleodnet.TypeChecker")
annotation.
- I got rid of checking to see if element was non-field type - this was redundant since
TypeChecker
is defined as
@Target(ElementType.FIELD)
, so it could only be applicable for fields.