posted 1 year ago
Hello everyone. I have a problem.
I need to create some sort of texturepack for my game, here is all, that this code is need to do:
- On
input
we have a 512x512 .png image.
- Programm will need to copy a small
region
from that image and translate it to
ArrayList
.
- Next, i will make two loops to "scan" all image.
The problem is:
I really dont know, how to copy a part of image immediately from file (without render it to paintbox).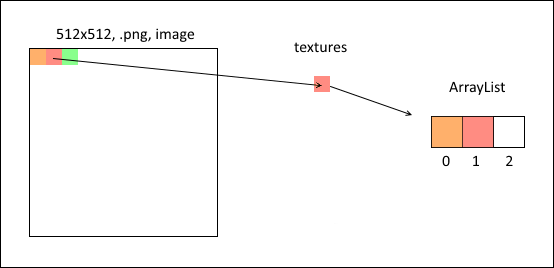 P.S. I'm a Russian guy, who tried to google normally, but couldn't find anything. Hope i have enough knowledge in english in order to talk to you
.
Ranch Foreman
Posts: 2238
posted 1 year ago
how to copy a part of image immediately from file
I don't know if
java
has a method to do that.
If the image is read into a
BufferedImage
, the
BufferedImage
class has methods that would get a sub image from it into another
BufferedImage
object that could be put into an
ArrayList
.
posted 1 year ago
Creating these subimages directly from a png file is not easy, given the complex file format.
So indeed, read your image into a BufferedImame (letting the java library do all of that hard stuff), and create your subimages by using a suitable method.
Depending on your needs, it may be wise to create a subclass of
BufferedImage
, that also contains, say, the index of the subimage and maybe the pixel coordinates of the top left pixel. That will make it easy to see what part of the original a subimage is. You can then store these into your List.